Category Archive for: 'Scholarships'
Teens and Adults are invited to join Voices of Bucks County, a multi-generational performance troupe, that does concerts and musical dramas & reviews for the 2015-2016 season. Beginners are welcome and are 'mentored' by  seasoned singers. (Some scholarships available to qualified high-school or college aged singers.)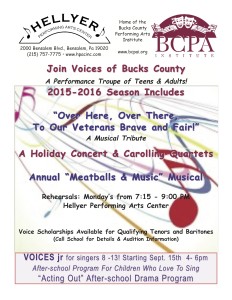 Financial Aid Available Through BCPAI While Funds Last!*
*must meet income requirements
Discovering Acting For Children & Teens
If you have a 'drama' king or queen in your family, this after-school program could be the perfect activity!
Two-hour sessions each week will include exploration of theater games, imagination play turned into dramatic story-telling, stage movement,
turning 'improvs' into scenes and script reading. Learn more!
VOICES jr (Singing for Ages 8-14)
VOICES jr is excellent for children who love to sing and wish to further develop their musical skills and opportunities to perform.
Perfect for those who want something more challenging than their local school and especially valuable for home-school
children or those who attend schools that have no choral program. Learn more!
VOICES of Bucks County•
Performance Group for Teens & Adults
Singers new to reading music are 'mentored' by experienced musicians as we prepare for our music productions. This year includes "A
Norman Rockwell Holiday", a cabaret show, classical concert and a musical revue. Learn more!